Warrior Women with Lucy Lawless
is an awesome 5 part documentary series that I literally watched in one sitting because I liked it so much. It was interesting, visually pretty, and, best of all, actually taught me things I didn't know--something I always appreciate. The documentary covers five women in depth--Joan of Arc,
Grace O'Malley
,
Boudicca
,
Lozen
, and the 'Real' Mulan, and I HIGHLY recommend that you go watch it right now. It's on Netflix, so it should be pretty easy.
I do have some warnings, however. This show is very addictive. You will be sad when it's over. This show will suck you in, then spit you out wondering what exactly you're supposed to do with your life now. You may not be able to watch another historical documentary again without feeling the bitterness of dissatisfaction. Further side effects of watching
Warrior Women with Lucy Lawless
may include:
A crush on Grace O'Malley
A desire to fight the Roman Empire
Seeing Boudicca in a different light
A desire to fight the US Government
Learning how to actually pronounce 'Boudicca' and 'Iceni'
A crush on Lucy Lawless
Increased knowledge about swords and other weapons
Procrastination of other responsibilities to watch this documentary
Frustration that it only has five parts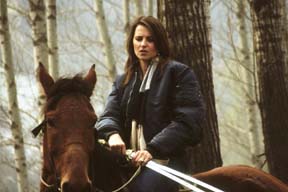 Hyperbolic silliness aside, this is a fantastic documentary. It's very well researched, it's well presented, and it keeps your attention the entire way through. I honestly, have no serious complaints about this show, only the wish that it was longer. So if you're looking for an amazing history show to watch, definitely watch this one.
More on Similar Topics