Just as Sappho is the Mama Lesbian, Christine de Pizan is the Mama Feminist. Christine was the first European woman to make a living from her writing, and her book
The Book of the City of Ladies
was one of the first books on feminism ever written.
Christine at her desk.
Born in 1364, Christine started her life in Venice, but her family moved to France when she was three years old. Her father, Thomas de Pizan, had received an appointment as astrologer to Charles V. Living with the royal court gave Christine access to a vast library or literary and rhetorical works. Though not much is known about her education, or if she was even formally educated at all, the quality of her literature show that Christine was obviously well read.
At the age of 15 Christine married royal secretary Etienne de Castel. It is unknown if they were happy or not, but they did have three children¹ together before Etienne died of the bubonic plague after ten years of marriage. Etienne's death left Christine with no source of income, a substantial amount of debt, and two children and a recently widowed mother to support.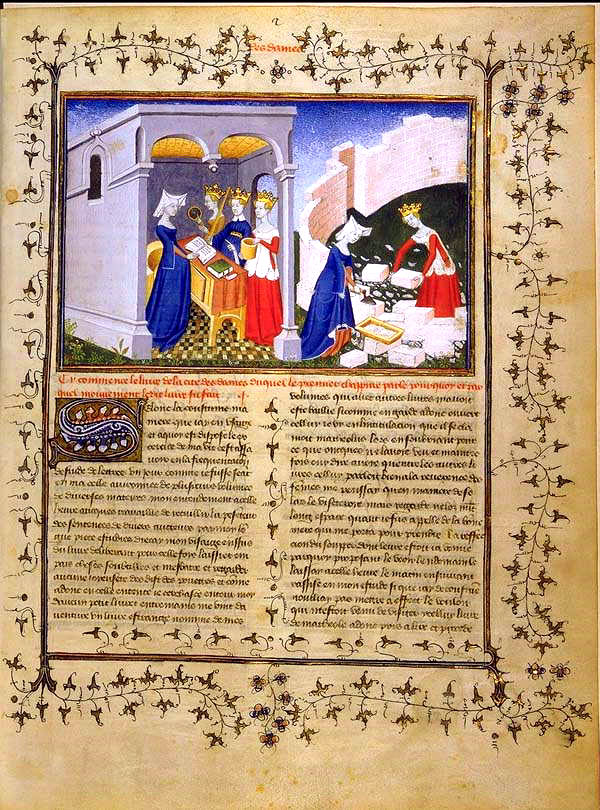 Illuminated page from The Book of
the City of Ladies
Luckily, Christine was a talented writer, and the French court had a fever that could only be cured with more poetry. Christine put out ballads about love, loss, and widowhood which brought her to the attention to royal patrons like Isabelle of Bavaria, the Duke of Orleans, and the 4th Earl of Salisbury.
For the first few years of her career, Christine mostly wrote poetry and moralistic works. Until in 1402 when Christine decided to pick a fight with a dead man. ²
Jean de Meun wrote a second half to
The Romance of the Rose
in 1280ish. In his poetry, de Meun was biting and cruel about ever member of society, but Christine took particular offense at the way he treated women in his works. He portrayed women as little more than one dimensional seductress ruled by their own lusts. In her response Christine argued that women are much more complex than de Meun portrayed them. She starts by criticizing de Meun, but ends by criticizing the entire European canon at the time, censuring the many works about the nature of women, none of which were written by women.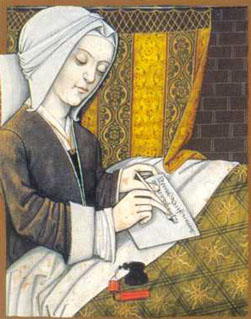 Christine writing
This sparked a long term literary debate which would bring her to the attention of monarchs around Europe. It also sparked a long term passion for writing about women and women's history. In her seminal work
The Book of the City of Ladies
, Pizan imagines a world built by women, for women, free from misogyny. Within that framework she tells the stories of the great women who came before her, without the misogynistic bias that colored the accounts of so many male writers.
In around 1415 Christine retired a convent with her daughter. The increasing political unrest, and the disaster at the Battle of Agincourt, had her rattled, and she was ready to retire from public life. In 1429 she released
The Tale of Joan of Arc
, a ballad that basically fangirled over Joan of Arc and her victories.
The Tale of Joan of Arc
was Christine's last work, and she doesn't appear in public record anywhere else. It's generally assumed that she died shortly after.
Christine had a massive impact on the writers and political leaders of her day. Her works attacking the traditional patriarchal society influenced other female writers, and also influenced future female monarchs, such as
Louise of Savoy
, Anne of Brittany, and Leonor of Portugal.
¹A daughter named Marie, a son named Jean, and a second unnamed son who died in infancy.
²A move I cannot help but applaud. It's the sort of thing I
have done
would do.
Sources
Christine de Pisan-Brooklyn Museum
Christine de Pizan: Her Works
Christine de Pisan-Britannica
Christine de Pisan-New World Encyclopedia
Christine de Pisan-Biography