Known to her family as 'Sisi', Elisabeth, Empress of the Austro-Hungarian Empire, remains one of the most Romantic (the capital R is on purpose) and tragic queens in history. Married to her cousin at only age sixteen, Elisabeth was thrust into a life of strict etiquette and heavy media scrutiny. Deeply unhappy, she wandered Europe for more than three decades searching for peace.
Elisabeth on her wedding day.
Elisabeth was the fourth child of Duke Maximilian in Bavaria and Princess Ludovika of Bavaria. Ludovika and Maximilian were cousins, and were almost constantly at loggerheads with each other. Maximilian was something of a free spirit--preferring to roam Bavaria disguised as a commoner, playing the zither in taverns for public amusement. Maximilian also had several affairs, and had a distinct distaste for life in Possenhofen--the castle where Elisabeth and her siblings grew up. Though Maximilian seemed to have dislike Possenhofen, he didn't dislike his children. He would frequently take them on long nature expeditions, lasting weeks at a time. Due to this, and her mother's disbelief in an extensive education, Elisabeth's education was fairly unsettled, and she did not have the education she would later need to rule.
From all accounts, Elisabeth's childhood at Possenhofen was idyllic. She played with her siblings, avoided her lessons, wrote poetry, and rode horses. However, all of that changed in 1853 when Elisabeth was 15.
Western Europe at the time contained many more countries than it currently does. At the final dissolution of the Holy Roman Empire in 1806, the Empire split in 360 smaller states. Many of those states banded together to form the German Federation in 1815. The German Federation was a loose collection of states presided over by the Austrian Emperor. Elisabeth was born into Bavaria--the third biggest of these German Federation states, and the direct neighbor of the much larger Archduchy of Austria.¹
Europe 1854, note the closeness of Bavarian and the
Austrian Empire
The archduke of Austria, Franz Joseph, was single, not opposed to mingling, and was the most eligible bachelor in Europe. Princess Ludovika was Franz Joseph's aunt, and she, along with Archduchess Sophie, Franz Joseph's mother, hatched a plan to marry Franz Joseph to Elisabeth's older sister, Helene. When Ludovika took Helene to meet the emperor, she had Elisabeth accompany them, presumably so she could set Elisabeth up with an equally enticing gentleman.
The plan was perfect--one trip, two marriages. However, Ludovika and Sophie didn't take Franz Joseph's feelings into mind. In a rare occurrence of love (or lust, if you're feeling cynical) at first sight, Franz Joseph informed his mother that he would not be marrying Helene, but that he would be marrying Elisabeth, and that was that. He proposed to Elisabeth after only a week.
Elisabeth, of course, accepted, and the couple announced their engagement on August 19, 1853. The fact that Franz Joseph was 23 to Elisabeth's 15, and that the couple were cousins doesn't seem to have mattered much to the parties involved. Franz Joseph loved Elisabeth, and one didn't tell the emperor no. It is, however, difficult to ascertain the depths of Elisabeth's feelings for Franz Joseph. Any hesitations she may have had aside, the couple was married in the April of the next year.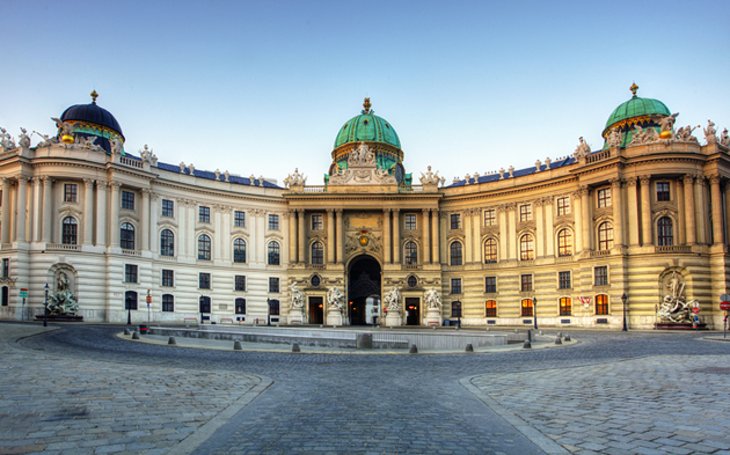 Hofburg Imperial Palace in Vienna.
Adjustment to the Imperial Court at Hofburg was difficult for Elisabeth. Etiquette was draconian, recalling the strict rules in place at Versailles. Particularly the rules about dressing irked Elisabeth. Court etiquette stated that the Empress could wear a pair of shoes only once before giving them to a lady in waiting. Gloves had to always be worn. There was a strict system of precedence, and a great deal of activities Elisabeth had previously enjoyed were deemed 'unseemly'. Elisabeth crossed swords with her mother-in-law, Archduchess Sophie over this more than once, particularly after the birth of Elisabeth's children.
In the view of the archduchess, Elisabeth's role was to provide heirs and look pretty, nothing more. This rankled Elisabeth, who had some interest in governing, particularly with the Hungarian part of the empire. However, Elisabeth's distaste for etiquette, and reticence at public gathering pushed her to the fringes of power, and isolated her at court.
This isolation, combined with a lack of freedom made Elisabeth deeply unhappy. Furthering her unhappiness was the fact that upon their births her first three children were taken away from her, and she was allowed little contact with them. She and Franz Joseph had three children in the first four years of their marriage, with two surviving to adulthood. These children--two daughters and a son--were raised by a staff of servants and the archduchess Sophie.
Probably the most famous of Elisabeth's
portraits, this dress was later the inspiration
for the 'Think of Me' dress in the 2004
'Phantom of the Opera' movie.
Elisabeth was a private person with a distaste for crowds and invasions of her privacy. Unfortunately for her, Elisabeth lived at a time when more people in Europe were literate than ever before, and European press was becoming a bigger and bigger industry. Royal reporting became the newest craze, with presses constantly cranking out articles and pamphlets about what Elisabeth ate, wore, and did. (and
who
she allegedly did) This only increased Elisabeth's feelings that she was in a sort of gilded cage, and imprisoned. Though she was much beloved by the masses, and she was welcomed everywhere she went, Elisabeth believed that she was viewed as a curiosity, once comparing herself to a dancing monkey.
Despite her distaste for it, Elisabeth discharged her duties as empress with great aplomb. She was, as mentioned, much loved by her people, and with good reason. She was known for personally interacting with her subjects, and taking time to speak with the people in front of her. She frequently would visit hospitals, a lady in waiting in tow, and would hold the hands of and converse with the patients.²
What Elisabeth is best known for, of course, is her legendary beauty. With wide dark eyes, and eighteen inch waist, and ankle length hair, Elisabeth was considered one of the most beautiful women of the era. Numerous paintings and sculptures were done of her, with, according to her husband, only a few coming close to actually capturing her good looks.
Elisabeth spent hours on her beauty routine. She would spend hours exercising, applying various compresses and ointments, and spent three hours having her hair done each day. While having her hair done, Elisabeth studied, learning Greek, Latin, and Hungarian.
As might be expected from a couple with an eight year age difference, who'd known each other a week before making a lifetime commitment, Elisabeth and Franz Joseph's marriage was less than congenial. Franz Joseph viewed Elisabeth's dislike for public duty as childish, and Elisabeth found Franz Joseph dull and humorless. Both had numerous extra-marital affairs.
A portrait of Elisabeth featuring her
famous hair.
Though she was a beautiful woman, Elisabeth was not a healthy woman. She suffered from depression, and exhibited all the signs of what we now recognize as anorexia. She ate little, at times only living off raw milk and oranges. She exercised obsessively, spending hours in a gym she'd had specially set up for her. She had a morbid fascination with death, and frequently remarked that insane people were the only ones who made sense. Her depression combined with her eating disorder took a great toll on Elisabeth, and unsurprisingly in 1862, Elisabeth had a nervous breakdown.
After her nervous breakdown, Elisabeth began to travel extensively, often spending more time outside of Austria than in it. She took long cruises on the royal yacht, sailing around the Mediterranean and western Africa. Elisabeth tried to keep a low profile while traveling. She wasn't making or receiving state visits, she was traveling for herself, often under an assumed name or auxiliary title. She eventually purchased land on the island of Corfu, and began to build a castle there.
In 1866 Elisabeth returned to her husband, and began putting pressure on him to treat with the Hungarians to make them an equal part of the country. Elisabeth was successful, and in 1867 the Austro-Hungarian Compromise was passed, granting Hungary equal status with Austria, and allowing them a greater degree of sovereignty. It is unknown exactly how much Elisabeth had to do with the passing of the compromise, but it is known that following the compromise Franz Joseph forbade her from interfering in politics ever again. Franz Joseph couldn't have been too angry, however, because the couple's fourth child was born in 1868.
Elisabeth at her coronation as Queen of Hungary
For some time Elisabeth's life was more or less uneventful. She was allowed to raise her last child, Marie Valerie, and they were quite close, Elisabeth taking her daughter with her on her travels. Though she and Franz Joseph didn't stay reconciled, the couple seemed to have been on amiable terms. And in 1890 Elisabeth was able to persuade Franz Joseph to allow Marie Valerie to marry the archduke of Austria-Tuscany, a man Marie loved despite his lack of dynastic connections.
While ostensibly a happy occasion, the engagement of Marie Valerie to her archduke dug up some bad feelings in the family. Crown Prince Rudolf, Elisabeth's third child, and heir to the throne, had been pressured into marrying a Belgian princess nearly a decade earlier, and seeing his younger sister get to marry for love rankled him. On January 30, 1889 he was found dead in a hunting lodge along with his mistress, having apparently shot her then himself.
Elisabeth went into deep mourning after the death of her son. She gave away her jewels, and dressed in black for the rest of her life, much in the same way Queen Victoria had been doing since 1861. She wandered Europe listlessly and without purpose.
This is the last photograph of Elisabeth, taken
shortly before she died.
In 1898 Elisabeth found herself in Geneva, Switzerland. She was there visiting a friend when on September 10 she was stabbed by anarchist Luigi Lucheni³ in front of a hotel. Luigi had stabbed Elisabeth with a small file, and Elisabeth had initially thought that he'd punched her until one of her ladies noticed the blood on her dress. Though they called for a doctor, Elisabeth soon died.
Today Elisabeth is remembered as a romantic figure--the beautiful empress who never wanted to be empress. Though her story was undeniably tragic, it must be remembered that she could wield great power when she wanted to. Her actions in the Austro-Hungarian Compromise contributed a great deal to Hungary's later independence from the empire. Given her huge impact with just one issue, it is easy to imagine just what she might have done had she been allowed to properly rule.
¹It is worth noting that while Austria may have been classified as an Archduchy in the context of the German Federation, it retained its status of an Empire due to it's possession of the Kingdom of Hungary and associated territories.
²This, along with many other parts of Elisabeth's life have led to many comparisons between her and Princess Diana.
³Luigi Lucheni didn't have anything against Elisabeth personally, he just hated the ruling class. He hadn't even come to Geneva for Elisabeth, he'd come to assassinate Prince Henri of Orléans. However, Prince Henri had canceled his visit at the last minute, and Luigi, not wanting to waste the trip, decided to assassinate Elisabeth instead.
Sources
"The Anorectic Empress: Elisabeth of Austria."
by W. Vandereycken and T. Abatzi
Elisabeth, Empress Consort of Austria
The Tragic Austrian Empress Who Was Murdered By Anarchists
Sisi Museum
Empress Sisi
Elisabeth, Empress of Austria