Czarina Catherine II was enlightened, and she was a despot, but she was not an enlightened despot, no matter what the stories say. Though she embraced the ideals of the enlightenment, her laws and reforms kept Russia under her autocratic thumb. She strengthened the institution of serfdom, and conquered most of the Crimea region. That aside, she was one boss lady.
Young Catherine
Born Prinzessin Sophie Friederike Auguste, Catherine was the daughter of a minor Prussian prince. Living in the principality of Anhalt-Zebst, Catherine was mainly ignored by her parents until she grew to a marriageable age. When Catherine was old enough to marry, her mother took her around Europe shopping for a suitable husband. In 1744 Catherine and her mother went to Russia, then ruled by the Empress Elizabeth. Elizabeth had a young heir and nephew, Peter, to dispose of, and she decided that Catherine would be an ideal bride.
Catherine had to give up a lot to be considered a suitable future czarina. She was required to convert from Lutheranism to Russian Orthodoxy, and learned Russian in order to fit in with her people better. She was successful, and in 1745 she and Peter were married.
Peter and Catherine were not a good match. Catherine was intelligent, vivacious, and ambitious, while Peter was immature, antisocial, and dim. Peter felt threatened by his wife, and was often cruel to her in private and public. It wasn't long after their marriage that Peter began to take lovers. Hurt, Catherine spent a lot of time reading, and took lovers of her own. During their entire marriage Peter and Catherine had two children--a son Paul and a daughter Anna. It is highly unlikely that either of them were Peter's child.
The Malachite Room of the majestic Winter Palace--a residence
that Catherine had a large hand in building
In 1761 Empress Elizabeth died, leaving Peter in charge. Crowned Czar Peter III, Peter was a terrible leader. He pulled out of a war against Prussia, decided to invade Denmark, and made friends with Russia's long-time nemesis--Frederick the Great. He was widely unpopular among the nobility and the clergy, and it wasn't long before there were many groups plotting to overthrow him.
Fortunately for Catherine, she had an in with the Russian Guards. She and her lover, Grigory Orlov, had Peter quietly arrested, and Catherine proclaimed Empress. Catherine had planned to have Peter live out his life in imprisonment, but eight days after his arrest he was quietly strangled.
Unlike many other royal women who's husbands died before their heirs had reached majority, Catherine didn't even pretend to be a regent, she outright had herself proclaimed Empress, and only had her son Paul declared as her heir as an afterthought. She didn't much care for her son, and she didn't much care for a man to tell her what to do. Catherine had some very definite ideas about how she was going to run Russia, and she wasn't going to be stopped.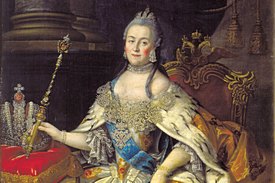 An older Catherine the Great
Catherine was very fond of Enlightenment principles. She had read extensively, and was determined to be the model of an enlightened monarch. She believed that by applying the principles of the enlightenment to her rule in Russia she could make a nation where life would be fair and just for everyone. Catherine had a lot of ideas, and in 1767 she convened a commission of people to frame a constitution for Russia. The commission was comprised of people of all social ranks (except serfs), and representatives from all major and minor ethnic groups. Catherine had very firm instructions on how the commission was to proceed, and detailed them in a letter that was, reportedly, so scandalously liberal it was banned in France.
Despite all of her ideals, Catherine knew she couldn't do without the support of the nobility. The commission failed to produce a working constitution, and in 1785 Catherine released her 'Charter of the Nobility', which granted the nobility more powers than ever before, and essentially made all peasants into serfs. This act was especially damning, because Catherine had spoken out privately and publicly about the evils of serfdom.
When she wasn't reforming the laws of the land, Catherine was trying to get more land. Thanks to Peter the Great, Russia had a port on the Black Sea, but Catherine wanted to solidify her position there. Through three partionings, she gradually ate away at Poland, and took the entirety of the Crimea from the Ottoman Empire.
Gregory Potemkin, Catherine's lover and
advisor
What Catherine is most known for is for her love affairs. As with almost all women of power, rumors of her intense sexual appetites have been grossly exaggerated, though in Catherine's case the rumors aren't entirely unfounded. While Catherine the Great didn't engage in bestiality, she did have some 12 lovers throughout her life, many of whom were quite a bit younger than her.
Catherine's memoirs reveal a woman who was lonely and desperate for love. However, in order to maintain her position Catherine couldn't remarry, and even if she could have it seems unlike that she would have. Catherine wrote in a letter to Gregory Potemkin, one of her most loved and longest lasting lovers, that her passions cooled quickly, and that as soon as a man was out of her site she forgot about him.
Though very popular, Catherine did inspire one of the largest uprisings in Russian history. In 1773 Yemelyan Pugachov, a former Cossack officer, started traipsing around claiming to be Peter III. According to Pugachov, Peter had not died, but had instead been in hiding, and he was ready to lead the serfs and peasantry to a better life, and to throw off Catherine's tyranny. He gained some 200,000 supporters, and marched down along the Volga river, slaughtering nobles along the way. He was within attacking distance of Moscow before he was finally captured, and his force dispersed in 1774.
At age 67, Catherine had a stroke and died in the Winter Palace in St. Petersburg. Though controversial, she is often regarded as one of Russia's greatest rulers, and as one of the greatest female rulers of all times. Catherine had lofty ideals and unbounded ambition. While she didn't manage to live up to her ideals, she brought Russia into an era of political stability and expansion that led to Russian prosperity in the 1800s.
Sources
Catherine II
Catherine the Great, Empress of Russia
When Catherine the Great Invaded the Crimea, and Put the Rest of the World on Edge
Catherine the Great: Biography, Accomplishments, and Death
Catherine the Great