So I've been studying Tudor history for a very long time, and there's not much you can tell me that I don't already know, which is why I was delighted when I watched this documentary, and learned several new things, including:
The Great Hall
Palace servants were given 1 gallon of beer a day, except for the people who turned the spit in the kitchens, who got unlimited beer.
It could get up to 1800 F in the roasting rooms of the kitchen.
King Henry's court, at the beginning of his reign, was basically just a bunch of teenagers and twenty-somethings partying it up.

Which makes me appreciate Cardinal Wolsey even more. He's the real MVP if you think about it. He basically ran the country while Henry and his dudebros played tennis and had sex.

There is a replica of one of the fountains that was filled with red wine on the Field of the Cloth of Gold in one of the courtyards of Hampton Court Palace.
Jane Seymour's heart and lungs are below the altar in the chapel. (Maybe that's why her ghost allegedly haunts the place)
And that's just the things about the Tudor era!


This documentary spends a lot of time going over the details of the architecture, and the events in Henry's life that influenced those details. They pointed out the one remaining badge of
Anne Boleyn
, as well as the pomegranates of
Catherine of Aragon
. They pointed out the tapestries commissioned in honor of Jane Seymour (tapestries which cost as much as a warship, holy shit!), and pointed out the little wooden people whose heads poked over the rafters of the Great Hall. (Their purpose was to remind the courtiers that everything they said could be overheard, and to be decorative I suppose. It's these little dudes that inspired the term 'eavesdropping')
Details of the ceiling in the chapel.
There was some general summary of Henry's life as well.
Anne of Cleves
and Catherine Parr were both briefly covered, though they had no significant history with the palace. I don't mind though, because historian
Suzannah Lipscomb
also said the best thing concerning Henry and Anne of Cleves (my favorite of Henry's wives) that I've heard in my entire damn life. It's something along the lines of:
"Henry told everyone that Anne was fat and ugly, and that she couldn't possibly be a virgin. And it's true, there was one person in that room who was fat and ugly, and not a virgin. But it wasn't Anne."
Once again, not a direct quote, but damn. I've never heard another historian drag Henry VIII like that. I think I'm in love.
After covering Henry VIII the documentary briefly touched on the palace's partial rebuilding under the reign of William III and his wife, Caroline. They explained how the palace worked in general, as well as pointing out the elaborate and ridiculous rituals royalty had to undergo.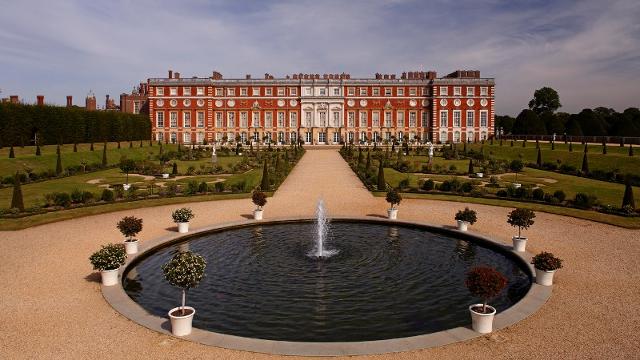 The Baroque part of Hampton Court Palace
My only complaint with this documentary is that it wasn't long enough! The film was an hour, but I would have gladly watched it for two or three. The historical research is solid, and PBS brought in experts from different historical fields (such as historical cooking and historical costuming) to give insight into aspects of palace life that usually go neglected when telling the history of Henry VIII. It's an A+ show, and I'll probably end up watching it again.
More on Similar Topics