Living more than 2000 years before the common era, Enheduanna was, without a doubt, one of the most important religious and political figures of ancient Mesopotamia. Not only was she one of the first women to serve as high priestess to the moon god Nanna, but she successfully integrated the Sumerian and Akkadian pantheons, uniting the Sumerians and Akkadians into one people under the rule of her father, Sargon the Great.
Alabaster disk depicting Enheduanna and three unknown
males. She is the second from the left, and the largest
figure, showing her importance.
To really explain why Enheduanna is such a remarkable woman, I need to explain the political situation of her era. Enheduanna was born into ancient Mesopotamia--arguably one of the most bloody and turbulent civilizations to exist. Located in modern Iraq, the ancient state of Sumer was in the process of being unified (read as 'conquered') by an upstart, fatherless Akkadian named Sargon. Sargon was eventually successful, but he didn't just want to
conquer
unify all of Sumer. No, Sargon dreamed big, Sargon wanted the impossible; he wanted peace.
The Mesopotamians had a whole pantheon of violent and angry goods whom they relied on very much. Being located between the Tigris and Euphrates rivers might have given them lush farmland, but the rivers were wildly unpredictable, and violent floods could happen at any moment. To try and keep the rivers, as well as more bloodshed, at bay, the Sumerians were devout worshipers. Their lives depended on it.
The Akkadians worshiped a different set of gods. Sargon came to the conclusion that to unite his people, he should unite them under one religion. That's when he asked his daughter, Enheduanna, to step in.
Now, before I go further, I must note that Enheduanna may not have been Sargon's literal daughter. Sargon may have designated her his 'daughter' as a symbolic gesture to link his kingship with the gods. However, if Enheduanna was Sargon's literal, biological daughter, it would certainly explain the Sumerian tradition of appointing princesses as high priestesses.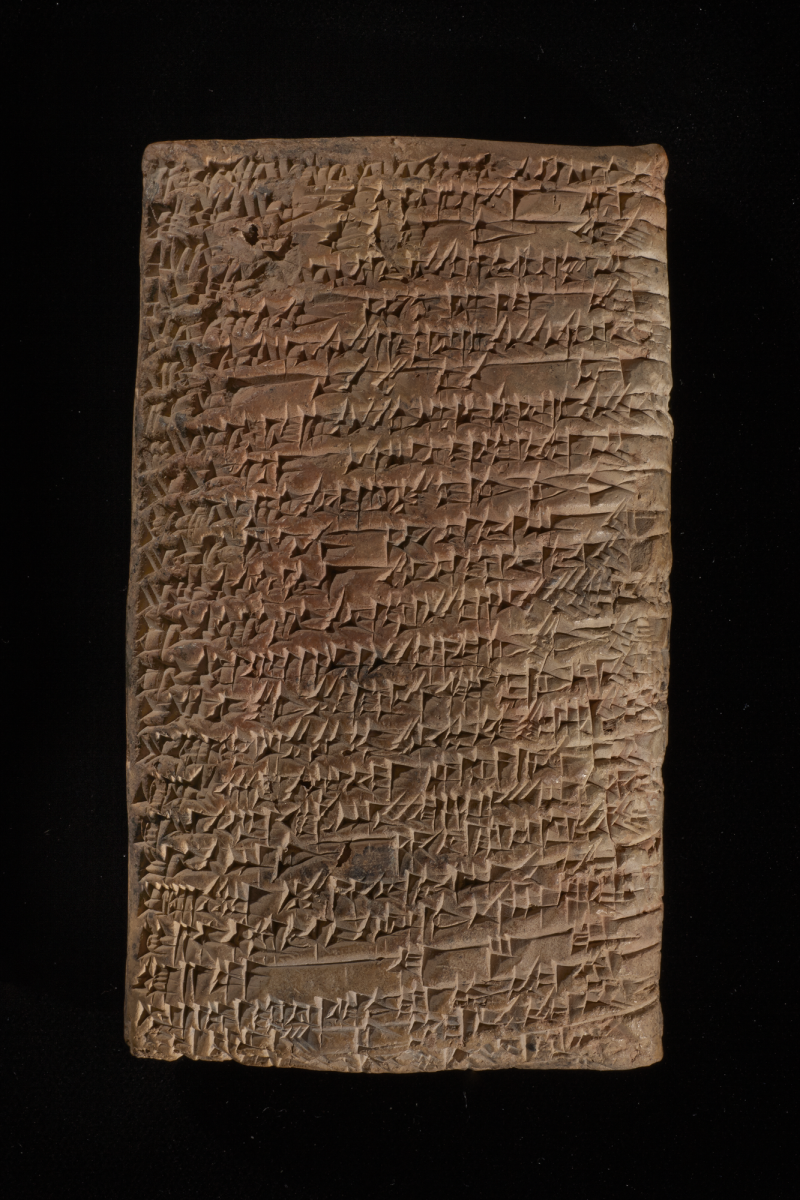 Clay tablet of Enheduanna's poetry


Sargon appointed Enheduanna as high priestess to the moon and creator god Duanna. It is presumed that Enheduanna changed her name to Enheduanna to reflect her position. Enheduanna's job was to unite the Akkadian and Sumerian gods into one pantheon; a job Enheduanna set to with relish. To do this, she picked up her scribe, and proceeded to dictate several hundreds of hymns and religious texts.
Though Enheduanna was priestess to Duanna, she was much more interested in Inanna, goddess of fertility, love and beauty. She seemed to have considered Inanna
her
goddess, and most of her surviving works are devoted mainly to Inanna, not Nanna.
Enheduanna was also quite interested in the Akkadian goddess Ishtar. Ishtar was similar to Inanna--goddess of love, fertility, etc.--but she was also the goddess of war. In her hymns to Inanna, Enheduanna started to slowly combine the aspects of Inanna with the aspects of Ishtar--depicting Inanna on the battlefield, sword of judgement in her hand.
Enheduanna was briefly exiled from Ur during a
coup d'etat
orchestrated by political enemy Lugal-Ane. Lugal-Ane overthrew Enheduanna's father Sargon, and forced Enheduanna out of the city. Enheduanna had proclaimed Lugal-Ane unworthy and ungodly because of his treatment of the priestesses. It was in response to this exile that Enheduanna wrote her seminal work.
Inanna with a lion.
The Temple Hymn
, Enheduanna's most famous work, was preserved in stone on pillars in her temple. It is a poem starting in the third person, then gradually moving to the first, praising Inanna, calling Inanna to rid Enheduanna of her enemies, telling the story of Enheduanna's exile from Ur, then telling the story of Enheduanna's triumphant return. In reading of the poem, Enheduanna seems to take on the place of Inanna as a goddess herself. Unsurprisingly, there is evidence saying that Enheduanna may have been worshiped as a deity after her death.
Despite having lived more than 4,000 years ago Enheduanna is well known because of the many copies of her works that exist today. Hundreds of clay tablets have been excavated that contains copies of her poetry. Additionally, in 1929 an alabaster disk containing Enheduanna's image was found. This disk portrays Enheduanna as the central character, and confirms that she held a great position of importance in Sumerian society.
In addition to the many great things she did politically, Enheduanna has quite a few literary firsts to her name. She is the first (known) author in the world. While there are certainly texts written before Enheduanna's hymns and poetry, all are written anonymously; Enheduanna was the first to claim credit for her work. In addition, Enheduanna is the first (known) author to have written in the first person.
Enheduanna was an exceptional woman for many reasons. She effected tremendous change in the politics, religion, and literature of her time, and those changes made history. Sumer wouldn't have been who it was without her contributions to their religion. Though she isn't well known, Enheduanna life's work is still taught in schools today.
Sources
Enheduana-Ancient History Encyclopedia
Enheduana-Dr. Roberta Binkley
Enheduana-New World Encyclopedia
Enheduanna, Daughter of King Sargon. Princess, Poet, Priestess. 2300 BC