Activist Ella Josephine Baker was born on December 13, 1903. Dying exactly 83 years later, Ella would live through both world wars, the great depression,and the civil rights movement. She is best known for her involvement in the Civil Rights Movement of the 1960s. While she isn't as well known as visible leaders like Rosa Parks and Dr. Martin Luther King Jr., Ella Baker was one of the major driving forces behind the movement. While everyone else gave speeches, Ella traveled around the country, registering voters and organizing protests.
Ella Baker
Growing up in Norfolk Virginia, Ella was heavily influenced by her grandmother, a former slave. Her grandmother would tell Ella stories about the injustices of slavery, the most famous being the time she was severely whipped for refusing to marry a man her master had picked out for her. In her early years Ella developed both a strong sense of self, as well as an outrage about the discrimination she and other African Americans faced.
In 1930, Ella started off her career in activism by joining the
Young Negros¹ Cooperative League
(YNCL). The purpose of YNCL was the provide shared resources for young African Americans. The organization had a strong emphasis on gender equality, as well as anti-capitalism. She soon became national director of the organization.
Around 1940 Ella began a leadership career with the NAACP. She began as a field secretary, and later served as a Director of Branches from 1943-1946. In this role, Ella worked heavily on voter registration in African American communities. She traveled across the country registering voters, and coordinating directly with local chapters. She trained activists (including Rosa Parks), and recruited members. She is widely acknowledged to have done a great deal of the hard, nitty-gritty work for the NAACP.
Ella had to step down from her leadership role in 1946 in order to move to New York and raise her orphaned niece. She joined the NAACP chapter in New York, and remained heavily involved with working to end social injustices. In 1952 she was elected president of her chapter, the first woman to ever be elected president of an NAACP chapter. As president, she worked to end school segregation, and build unity between chapters of the NAACP.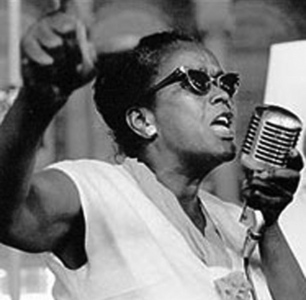 Ella speaking at a protest
With the creation of the Southern Christian Leadership Conference (SCLC) in 1958, Ella moved to Atlanta to serve as it's director. The SCLC is heavily associated with Dr. Martin Luther King, who served as the public face of the organization. Behind the scenes, Ella was calling the shots. She chose the issues the SCLC would focus on, planned protests, and trained other activists.
Unfortunately, within the SCLC Ella encountered a great deal of misogyny. Relations between her and Dr. King were tense, as he, along with the other male members of SCLC, weren't too keen on taking direction from a woman. Ella resigned in 1960 to found the Student Nonviolent Coordinating Committee. (SNCC)
SNCC was inspired by the sit-ins at the Greensboro Lunch Counters, and focused on organizing passive resistance protests. She also lead drives to register voters, and helped form the Mississippi Freedom Democratic Party--an alternative to the Democrat Party--which supported civil rights for African Americans.
Ella continued her work until her death in 1986. Though she is not well known today, her influence lives on. She played a major part in enfranchising African American voters, and planning the protests that helped end the
Jim Crow Laws
. Today the
Ella Baker Center for Human Rights
carries on her work of ensuring equal rights for people of all races.
¹This word, while not acceptable in a modern context, was more or less acceptable in Ella's time period.
Sources
Who Was Ella Baker
Ella Baker--Civil Rights Activist
Ella Baker--American Activist
Meet Ella Baker