If you've never heard of Sealand, rest assured, I am not making this up. Sealand is a very real principality located on a very real WWII fortress island seven miles off the coast of the United Kingdom. Not only is Sealand very, very real--they celebrated 50 years of independence last month.
The nation of Sealand. In its entirety.
During WWII, Great Britain built several fortress islands in the middle of the North Sea. A few of these fortresses were built a little bit outside of Britain's territorial waters, which extended about 3 miles out from Britain's coast in all directions. Construction of these buildings was, technically, against international law. But given that Hitler was intent on destroying most of Europe, Great Britain building small forts wasn't really a big priority.
Luckily, WWII ended, Hitler was defeated, and the island of Great Britain was still around, if a little pockmarked. Not needing them anymore, the military abandoned the fortresses, in the early 1950s and turned their attention to more sensible things, like spying on the USSR. They made efforts to tear down some of the illegal fortresses, but their efforts were halfhearted at best, leaving several fortresses in international waters.
Fast forward to the 1960s. BBC Radio sucks, and pirate radio stations located on these off shore fortresses is the newest fad. Enter Roy Bates, former army major and radio enthusiast. He sailed out to an unused fortress called Knock John, and set up a radio station. He was very popular with the locals in Essex, but not so popular with the local law enforcement. Several years of court battles ensued until British courts declared that since Knock John was inside of their territorial waters, Bates was technically within their jurisdiction, and could no longer broadcast. Roy Bates stormed off in a huff, and abandoned Knock John.
Prince Roy, Princess Joan, and their daughter Penelope. I've
read nothing to suggest that the children of the prince and
princess were titled

, so I have referred to both Penelope




and Michael

by their first names.
However, Britain had not seen the last of Roy Bates. Determined to continue his radio station, Bates set his sights on the abandoned Roughs Tower seven miles off the coast of Britain, technically in international waters. Roy took up residence on Christmas day of 1966. After some thinking and consultation with legal counsel, Roy declared Roughs Tower the independent Principality of Sealand on September 2, 1967, declaring himself and his wife, Joan, the Prince and Princess.
As grandiose as being a prince is, Sealand kinda sucks to live on. It's cold, wet, and in a constant state of disrepair. Additionally, it's difficult to do business on a concrete platform in the middle of the sea. Roy moved back to the mainland, but left his son, Michael, on Sealand to maintain sovereignty of the fortress.
Prince Michael, reigning monarch
of Sealand since 2012
Now, here's where I have to verge into speculation. Prince Michael hasn't given a lot of interviews, and the official Sealand website is mum on the issue, but an interview from Prince Michael given in 2013 makes it sound very much like he was all alone on this platform in the middle of the sea. He spoke of being ecstatic to escape the boredom of school, but of the loneliness of the open seas, especially the lack of feminine company.
Michael took to sneaking local girls in on the weekends by fishing boat, but his father Roy put a stop to that as soon as he found out. History has proven that this was an extremely wise move, not only for avoiding teen pregnancy, but because Sealand wasn't (and still isn't) always the safest place to live.
Sealand has had a grand total of two armed conflicts, pretty impressive for a country with less than 30 permanent inhabitants. However stressful these conflicts may have been for the tiny nation, both conflicts led to the only two
de facto
recognitions that the island has.
The first conflict wasn't long after Sealand declared itself a nation. In an act of supreme overreaction, Great Britain declared Sealand the 'Cuba off the east coast of England'¹, and sent out their military to tear down the rest of the fortresses located in international waters. The soldiers were buzzing overhead with helicopters, blowing neighboring fortresses to pieces, filling the air with debris. Soldiers approached Sealand, shouting threats that Sealand would be next. In addition to the threats, some soldiers also shouted some unsavory things to the sixteen year old Penelope, Michael's sister.
Michael, who was only fourteen at the time, took offense to these comments, and shot at the soldiers with his sawed off shotgun. The soldiers took off. Once again verging into speculation, I'm guessing that they were unarmed, given that a whole crew of soldiers can most certainly take one fourteen year old boy. Luckily, the soldiers left Michael and Penelope alone.
Sealand national flag
They may have escaped the British Army, but Michael didn't escape the consequences of his actions. The minute he stepped back on land, he was hauled off to jail for violating local firearms regulations. A long and complicated court battle ensued, during which the courts had to refer back to statues from the seventeenth century. Eventually, the judge ruled that Britain had no jurisdiction over Sealand, and Michael was cleared of all charges. Sealand claims this as
de facto
recognition from the British government.
The second incident happened in 1978. Prince Roy was in negotiations with some Dutch and German men to set up a casino on Sealand. These dudes were some pretty shady fellows, and while Prince Roy was off at a 'business meeting' in Austria, they landed on the fortress, taking Michael hostage and claiming it for themselves.
Michael was released after a few days, and he and his father started their mission to take their country back. They convinced a friend, a stunt pilot for the James Bond films, to fly them in by helicopter. There was no way for the helicopters to land on the platform, so Michael, his father, and two others slid down ropes to reach the fortress. The Dutch and Germans came out to see what was happening, and Michael's gun went off by accident, nearly taking his head off. The usurpers surrendered immediately. They were all kicked out of the country except for German lawyer Gernot Pütz, who also held a Sealand passport (yes, they issue passports). Prince Roy declared Gernot a traitor to the country and, using his power as prince, sentenced Gernot to life on the platform. Luckily for Pütz, the German embassy got a little worried after a few weeks, and went to rescue their citizen. The German ambassador to England went out to Sealand, and Prince Roy released Gernot immediately. Sealand claims this as their second
de facto
recognition.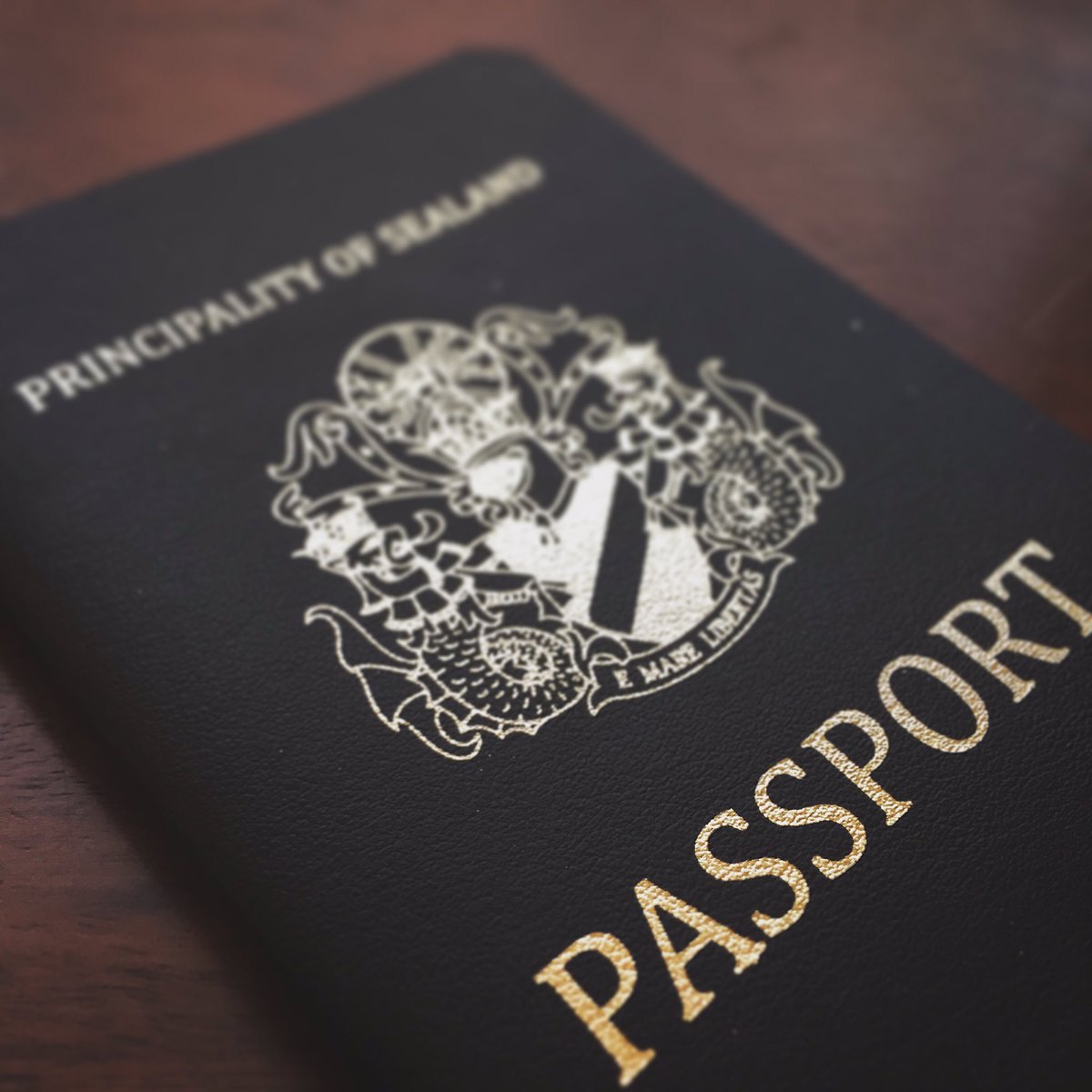 Official Sealand passport. You probably can't travel with
this, but it is an option.
In the 21st century Sealand has retired its warmongering ways. Prince Roy died in 2012, passing his title down to his son Michael. Prince Michael has a son and heir apparent, James, and though Michael and his family no longer live on Sealand, they show no intentions of giving up their tiny country. Smaller than the Vatican by quite a bit, modern Sealand makes most of its income from the sales of passports, titles, and merchandise, as well as being a server haven for VPNs.
The official motto of the country is 'E Mare Libertas', or 'From the Sea, Freedom.' This motto perfectly encapsulates the spirit of Sealand. Dissatisfied with the restrictions in England, Roy Bates left his life for freedom on the high seas, and that's what attracts people to Sealand to this day.²
¹Despite the fact that Sealand has zero things in common with Cuba. They had no nuclear weapons, they weren't backed by the USSR, they weren't communist. The biggest threat that Sealand posed to England was the threat of causing the English government a minor headache. Comparisons to Cuba were more than a little over dramatic.
²Not that Sealand gets any tourists. It is, as I mentioned, tiny. Only 43,060 square feet, Sealand is a little less than the size of a full acre. I've met people with bigger backyards.
Sources
Prince Roy of Sealand
Notes From a Small Island: Is Sealand an Independent Micro nation or an Illegal Fortress?
Principality of Sealand
I Rule My Own Ocean Micronation