Born November 4, 1801 Kathinka Zitz-Halein was an influential writer and political activist during the mid 1800's. Not only would she go one to publish over 30 books, but she also created the first women's political organization in Mainz Germany, but she also was instrumental in caring for the political refugees, political prisoners, and families of the aforementioned during the 1849 German uprising.
Kathinka was born to a middle class family, and received an excellent education. She was a talented writer, and had published her first series of poems by the age of 16. She had multiple teaching jobs, as well as a job as the headmistress of a school. However, when her mother died she left that to take care of her sister, Julie. It wasn't until Julie died that Kathinka started to get into politics.
It is unclear if Kathinka married Franz Zitz before or after her founding of the
Humania Association.
What is certain though, is that she was the founder and president of the leading women's political association in Mainz, and he was the president of the leading men's political association in Mainz. They were the Bill and Hillary Clinton of their era, right down to the rampant infidelity.
Unlike Secretary Clinton, Kathinka told Franz to hit the road. Though they remained married for the rest of their lives (Kathinka refused to grant him a divorce), they never lived together after the first 18 months of their marriage. Kathinka used support payments from Franz to support herself and her writing career. This steady income allowed her to further her political aspirations as well.
Before proceeding, it is important to mention that Kathinka was NOT a feminist. By her own admission, she didn't want men and women to be equal, merely for men and women to both be free to excel in their own respective spheres. She also believed that women were more than capable of helping the German revolution, and that they should be allowed to have political rights. This is what she said publicly anyways, here letters cast further doubt on her beliefs.
Mainz, Germany
Kathinka was, essentially, That Girl. You know That Girl? That Girl who believes that men and women should be equal, believes in closing the wage gap, believes in ending rape culture, believes in a woman's right to choose, but says that she's not a feminist because she doesn't believe that women are better than men, and doesn't hate men? You know, That Girl who says she's not a feminist because she doesn't really understand what feminism is? Kathinka was the 1800s version of That Girl. Though she publicly spoke against gender equality, and said that women should not leave the domestic sphere, her actions said otherwise.
The mission of the
Humania Association
was to disperse aid to refugees, prisoners, political insurgents, and their families. Aside from managing the financial and internal governance of the organization, Kathinka also did a large amount of 'field work', that would sometimes lead her dangerously close to insurgent territory. On one particularly memorable occasion Kathinka was asked by the Democratic Association--the male version of the
Humania Association
(with a bit more fighting)--to smuggle a chest back to Mainz during her visit to Kahrlsrule. Kathinka didn't know the contents of the chest, but when the chest was confiscated by Hessian authorities, it turned out that the chest contained the membership records of Democratic Association, as well as the names and information of several covert operatives.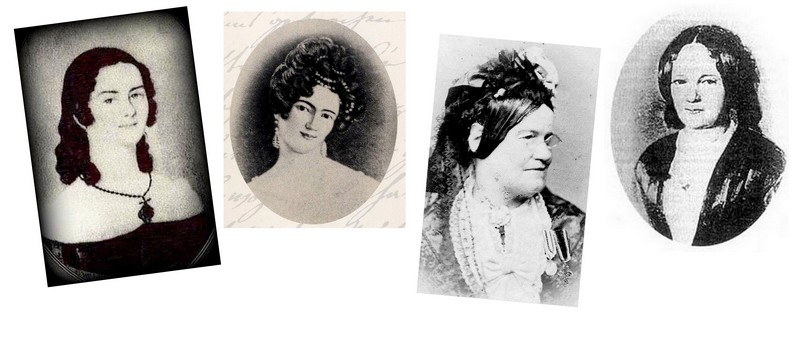 Aside from charitable giving behind enemy lines, Kathinka's main impact came from her writing. Not only did she write novels and poetry, but she also wrote political pamphlets under her various pseudonyms, some of which got her in trouble with the law. In 1848 she wrote a series of articles for a Mannheim newspaper calling the people of Mainz to arms against the Hessian government. Not only was this article suppressed by Hessian authorities (always a good sign), but it was very influential in the uprisings later that year.
Though she is not widely known or read today, Kathinka had an enormous impact on the people of her community. She fought not only for German unification, but also helped the families and soldiers who had been injured and impoverished because of their dedication to that fight. She was a clever and persuasive writer, and it is because of her writing that we know as much about German politics of that era as we do.
Sources
German Women and the Revolution of 1848: Kathinka Zitz-Halein and the Humania Association
by Stanley Zucker
Kathinka Zitz-Halein
Zitz-Halein, Kathinka