My general feelings about documentaries is that they ought to be longer, and more in depth. Unless they're heinously boring, in which case I have several other feelings as well. But this fantastic documentary series is one that I didn't want to end.
Narrated by historian
Lucy Worsley
,
Empire of the Tsars
takes a close look at Romanov Russia from its tenuous beginning to its tragic end. Over three episodes Worsley gives a biography of the most famous, and infamous Romanovs-Peter the Great, Catherine the Great, Alexander I, Alexander II, and, lastly, the unfortunate Nicholas II.*
I loved this documentary a lot. Not only is Worsley a great story teller, but she makes it easy for the viewer to visualize the sights and sounds of the history she's presenting. I had maybe a hazy (if that) image of what an 18th century boat looked like, so when Worsley brought out actual replicas (staffed by full time reenactors!) of the boats Peter the Great built, everything made so much sense. That's just one example. She also modeled the dress of the era, and took us inside the 'rooms where it happened'**. Ever wondered the logistics of Rasputin's murder? She walks you through it.
Most of all, I love that a thorough, well researched, in-depth, three part documentary on Russian history is available. Russian history is so fascinating, yet it so often gets overlooked (in the west at least). In my high school, as well as my college classes we only discussed Russia in the context of the Cold War, and a little bit about their contributions to WWII, and that's such a shame. Russia is a country with a fascinating history. It seems that the nation is in a perpetual struggle to join the future, pulled between their traditions of autocracy (or communism) and more western ideals.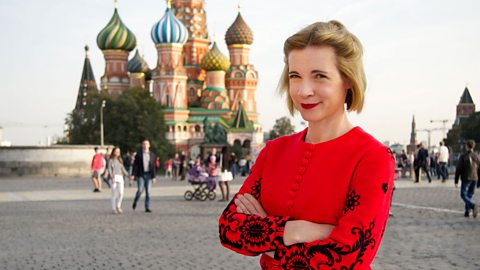 But this isn't the place to ramble about Russia, I'm telling you about a fantastic documentary that I stayed up until the wee hours of the morning to finish watching. In case you haven't gotten the idea, I really liked this documentary, and I highly recommend it. Worsley was an amazing presenter, and a
quick IMDB search
shows that she has a dozen other credits to her name, and I have no doubts I'll be watching her other documentaries as soon as I can get my hands on them.
*There were like three other that she also talked about, but they were mostly to put the reigns of the actually important tsars in context.
** 'Hamilton' reference,
in case you were wondering
. But let's face it, if you're here, not only have you at least heard of the world's most famous history based musical, you probably know all the words.
More on Similar Topics